Perfect Holidays at Christmas Tree Farms Near Calgary and Area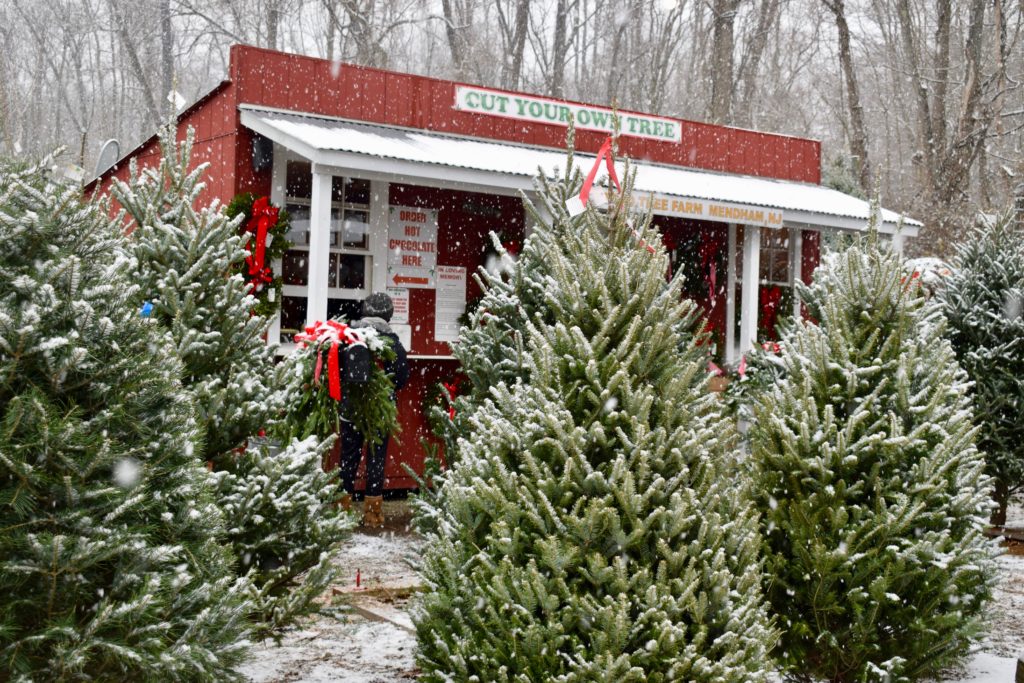 Picking out the perfect Christmas tree is one of the best and most widely shared holiday traditions. After all, it doesn't really feel like Christmas until your tree is up and decorated! Christmas tree production in Canada totals from 3 to 6 million trees annually. Trees are produced in many of the provinces of Canada but the nation's leading producers are found in Quebec, Nova Scotia and Ontario, which account for 80 percent of Canadian tree production. There are several beautiful Christmas Tree farms near Calgary and Area that are perfect for picking out your family's tree, and we've put together some of our favorites to share with you as the holiday season approaches.
Six Beautiful And Fun Christmas Tree Farms Near Calgary
Alberta's premier supplier of premium grade Christmas trees
Mountain View Christmas Trees is Alberta's premier supplier of premium grade Christmas trees to retailers throughout Alberta. Our reputation for offering high quality trees at very competitive prices combined with excellent service, has allowed us to grow to the size we are today. With many of our current customers referring to us as the only people to see for the 'finest' Christmas trees available.
We are very fortunate to have built solid relationships with our 'tree farm friends', allowing us to have secured exclusivity for all of our tree species we offer. This also ensures that we will receive only the very best of the best when it comes to the retailer offering our trees to their customers. On time shipping is also guaranteed, leaving one less thing to worry about during the busy season.
RAVEN RIDGE TREE FARM
Bring the whole family out and together you can pick the perfect evergreen scented tree to decorate your home with this season. Family-owned and operated for over 25 years, this tree farm allows visitors to cut their own tree down or easily select from one of the pre-cut trees.
Location: RR #3, Rocky Mountain House
Phone: 403-722-3207
BLUE GRASS NURSERY
Available every year from November to the end of December, the Winter Wonderland Christmas Store at the Blue Grass Nursery is packed with sparkling Christmas decor, arrangements, trees, and more. Freshly cut Christmas trees arrive mid-November and range from five feet to a whopping 16 feet tall. A variety of unlit and pre-lit artificial trees are also in stock and come in different colours, shapes, and sizes.
We have Two convenient locations to come and pick out the freshest Nova Scotia balsam fir Christmas Tree in the city of Calgary. The Christmas Tree lots are located below and are open daily. We have over 50 of the freshest Christmas Trees open at each lot, so your family can pick the one that is perfect for you. All of our trees are refrigerated on reefer trucks while transported from our farm in Nova Scotia. Our trees are only cut 10 days prior to the selling season and will be fresh until the new year!!
Christmas Tree Lot #1
755 Lake Bonavista Drive SE Calgary (Beside Safeway)
Christmas Tree Lot #2
New Horizon Mall (West facing parking lot) Facing Deerfoot Trail
260300 Writing Creek Crescent, Rocky View County
he day the tree is delivered and fills the house with the wonderful fir scent is the day Christmas arrives. Stringing lights, unpacking memories and creating more. The tree is the center of all of this and when it's a Porter River tree it's even better. It's perfect because it's grown on a small family-owned Canadian tree farm. It's fresh and delivered – not just to your door – but to your tree stand and professionally set up. It opens beautifully and lasts through the entire holiday season. Basically ordering a Porter River tree ensures that the day Christmas arrives will be a perfect day for making memories.
When you order a Porter River Christmas Tree, be prepared to get caught up in a whole new Christmas tradition. Gorgeous balsam fir trees grown on the MacIsaac family farm and delivered fresh and fragrant right into your tree stand. Each tree is delivered by a friendly face with peace of mind, knowing that your stunning investment will last through the entire holiday season.
All you need to do is add water!
Christmas Tree Farms Near Calgary AB
A Christmas tree is more than just a tree – it's a family tradition and a true piece of holiday magic. Make memories picking out your tree at one of these Christmas tree farms near Calgary and Area, and bring the perfect Christmas tree into your home this year.
Christmas is right around the corner, and it is time to start planning those family photo sessions! We can capture those perfect pictures for your holiday cards at my in-home studio or local field. Feel free to browse my work on my website! If you think we would be a perfect match, then let's connect and start working on your photo session! Our holiday limited edition sessions are now live!
Wendy has a full studio wardrobe, with of over 100 dresses and robes for moms from her favorite places. Check them out here. Hair and makeup is available at the studio to add on to any session at the studio before your photo session.
Wendy Goetz  is a Calgary newborn photographer and specializes and in maternity, newborn, and family photos in Calgary and surrounding areas.
If you love these photos, and you are looking for a Calgary newborn Photographer I would love to begin planning your session. With over 5 years of specializing in my favorite ages of tiny humans, maternity, newborn, and young families and I would love to photograph your family! To see more of my maternity & newborn portfolio please click over here and get in touch if this is something you would love for your baby.
 I feel strongly that potential clients are able to see many full galleries of real sessions so you know exactly what to expect from your portraits as well! If you are interested in a custom portrait session with Belliam Photos and would like more information, please click here to learn more about me and this experience.
If you would like to reserve your maternity or newborn photos, in my Calgary studio, field, or your home on my calendar I would love for you to contact me here.
Our award winning photographer at Belliam Photos offers services fine art maternity, newborn, baby and family photographer services throughout Calgary, Alberta including: Airdrie, Cochrane, Canmore, Springbank, Langdon, Chestermere, Okotoks and all Calgary surrounding areas.
I'd love to capture your growing family and newborn memories.  If you're interested in booking a Calgary Photography session for your baby or family please give me a call or send me an email at belliamphotos@gmail.com so we can discuss the details for your customized newborn experience. Newborn Portrait Sessions are best held within the first 2 weeks from birth. Let's create lasting memories together!